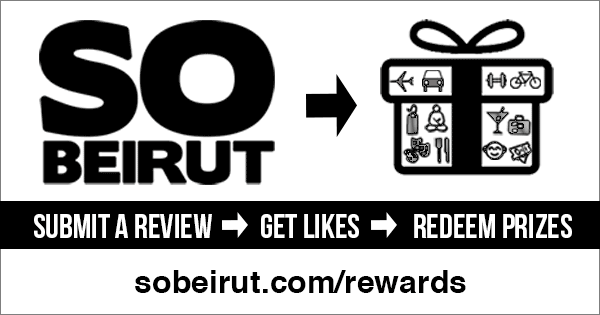 In partnership with a growing number of companies in Beirut for every like you get on your reviews you will receive points to redeem on an increasing list of prizes - View current live prizes - click here >>
To make it easier to reach your reward goals you can share your reviews on Facebook, Twitter, Google, Whatsapp and email and ask your friends to like what you've reviewed.
Get 10 reward points for submitting new venues
SOBEIRUT is asking visitors to help us discover new Secrets of Beirut. For every new submission of a Venue, you will get an extra 10 Reward points to redeem for PRIZES. There is only one criteria which is that you have to submit something that you would recommend to a friend. Please make sure to check that it's not already on the site first by searching for it.
SEARCH FOR A VENUE HERE
www.sobeirut.com/search/venues
SUBMIT A NEW VENUE HERE
www.sobeirut.com/add/venue
To check your reward points, go to My Profile and click on My Rewards.
When you're ready to redeem your points for prizes, send us a contact or give us a call in the office at 01 747111 / 01 348648 / 03 720747 if you have any questions.
Looking forward to reading your reviews.